Egusi Soup

Egusi soup is unarguably the most important soup in any Nigerian restaurants, It doubles as Nigeria's favorite and also the most popular soups in Nigeria.

Different recipes exist across different localities and ethnicities in Nigeria but I will be dropping the most popular and easiest recipe for egusi soup below.

Almost anybody could follow this recipe to make a delicious pot of melon soup.
Ingredients for Egusi Soup
Total cooking time: 90 Mins
Serving 12 People
2KG Chicken meat
4 cups of egusi seeds
200 g Dried fish
Ground crayfish (Half cup)
3 seasoning cubes
300 ml palm oil
5 Scotch bonnet (pepper)
200g Stock Fish Head
Finger size opkei or dawadawa (local spice) optional
1 cup washed Bitter leaves
I used chicken, cow liver and tribe for this soup but you could use just chicken, goat meat or combinations of different kinds of meats.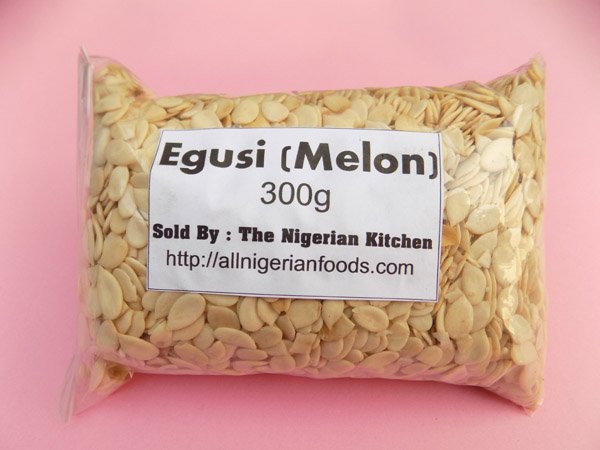 Egusi seeds, also called melon seeds are one of the most popular staple food in Nigeria. They are sold in every Nigerian local market. If you live outside, Nigeria, you will find them in African shops.
Preparation
1. Grind the egusi seeds using a blender or hand grinding machine. There are people in the local Nigerian market that could assist you with grinding melon seeds. They usually do a better job than most blenders would.
2. Season the meat with a teaspoon of salt, sliced onions (half cup), two seasoning cubes and allow to boil for 10 minutes. I started cooking the cow tripe first, then added the chicken and cow liver after 30 minutes.
Stir all together and cook for another 10 minutes.
3. You want the bitter leaves properly washed so you don't end up with very bitter soup. I like my egusi soup slightly bitter but not very bitter. If you bought pre-washed from the market just boil with only water for 10 minutes.
If you bought fresh bitter leaves, you will spend some time washing and squeezing to reduce the bitterness. Then boil with water for 10 minutes.
4. Grind the crayfish and pepper, set aside.
Wash the fish and stockfish. Just pour hot water over them to soften them, then drain the hot water and wash the dried fish and stockfish. Also set aside.
How To Cook Egusi Soup
1. Add 5 cups of water to the cooked meat in the pot. Use proper measuring cups, a standard measuring cup is 250 ml, 5 cups will be 1000 ml or 1 liter.
Add 300ml palm oil and the ground crayfish and pepper. I pounded my crayfish and peppers together.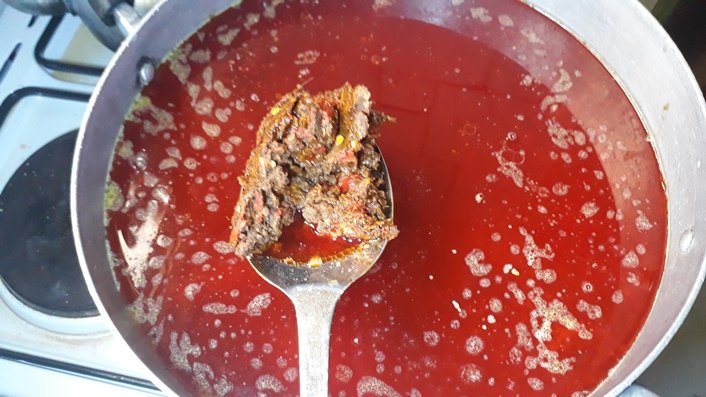 2. Allow the soup to boil for the next 10 minutes. Then add the washed fish and stockfish, another seasoning cube and salt to taste.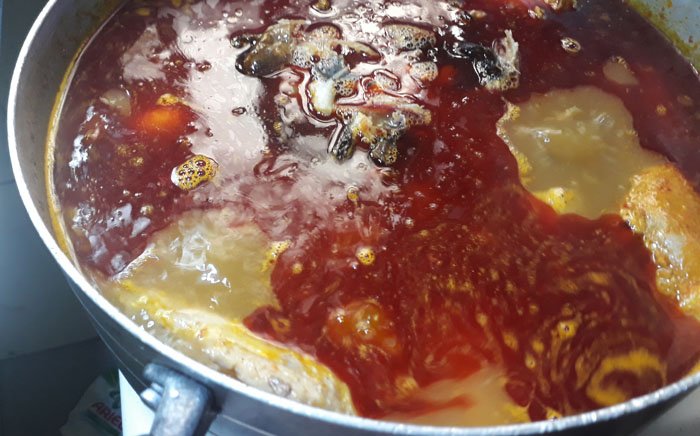 3. Taste your soup at this point before adding the ground egusi seeds.
Once you like the taste of your egusi soup, you can go ahead and add the ground egusi (Melon) seeds.
Also, add the ground Okpei or dawadawa at this point (if you are using it)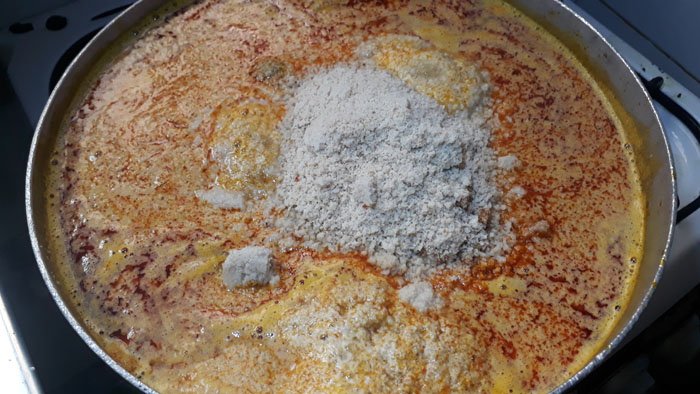 4. Once you add the ground melon seeds, cover the soup and allow boiling for 7 minutes.
You can now add the washed bitter leaves. Aside from bitter leaves, you could also use sliced pumpkin leaves (Ugu) as vegetables for Nigerian egusi soup.
Most times, I make melon soup with bitter leaves.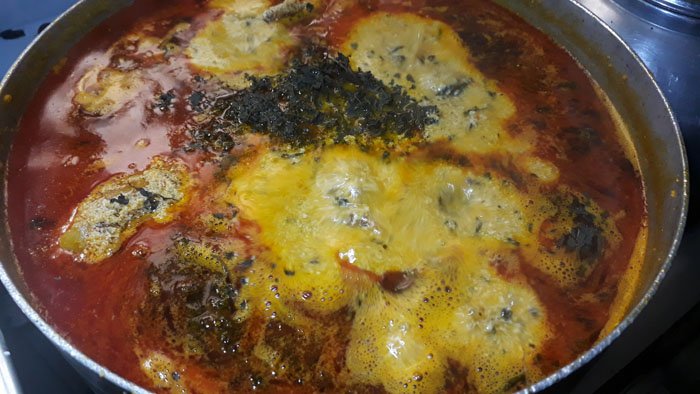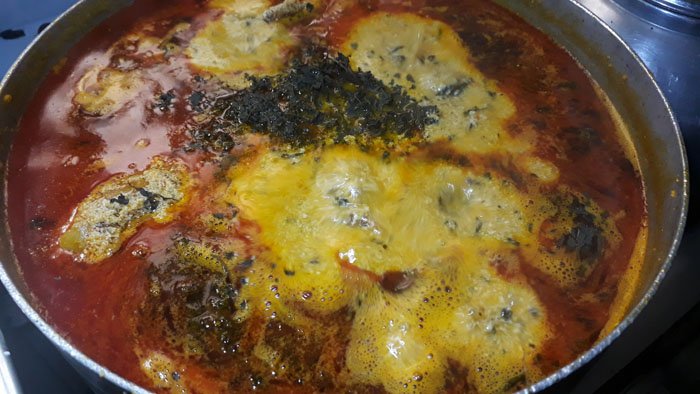 Cover your pot half-way and allow the soup to boil for 7 minutes, stirring occasionally so it doesn't get burned.
This is how to cook egusi soup in Nigeria.
In the end, your pot should be looking like this.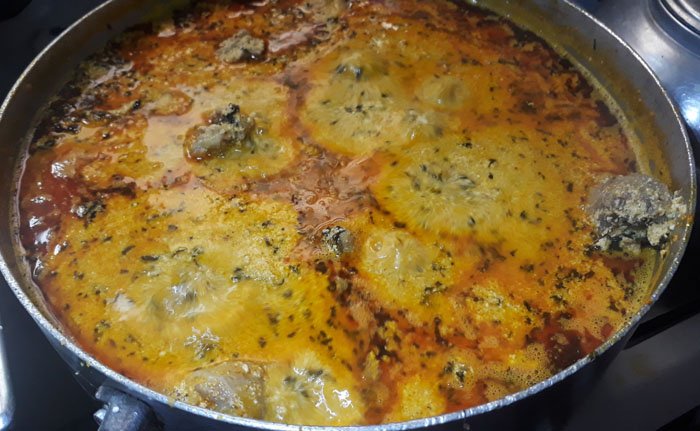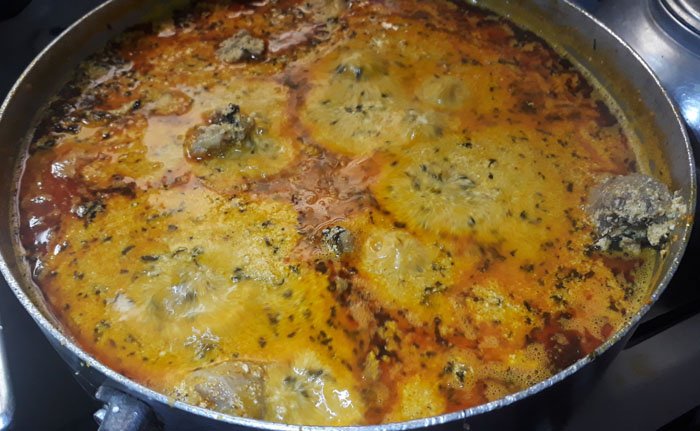 I have explained in another article that Nigerian soups are never served as a course meal, they are however paired with Nigerian swallows.
The term "swallow" is used for foods that are been swallowed without chewing… 😀
There are 5 Popular Swallows in Nigeria.
Pounded Yam and Eba (Garri) is top on the list.
In the plate below, I have combined eba and egusi soup to be served as lunch, enjoy.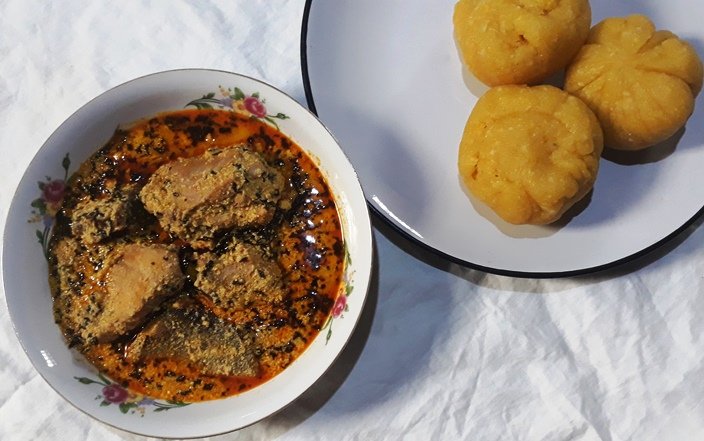 I have a simple printable recipe for this same soup below. I also included the video for Egusi (melon) Soup.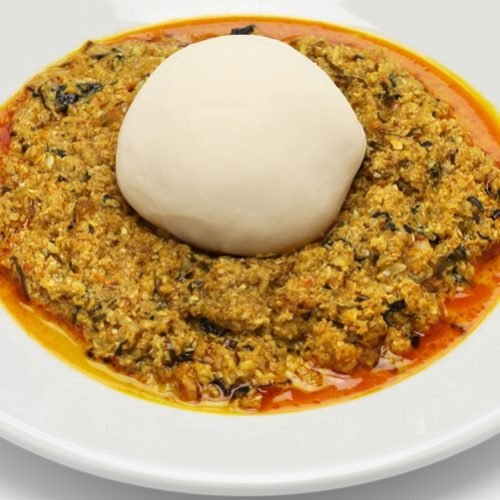 Egusi (Melon) Soup - How to Prepare Egusi soup
This recipe shouws you how to cook egusi soup in just about 90 minutes. Anybody could follow this recipe as long as you could find the ingreidnts.
Ingredients
4

cups

of egusi seeds

2

kg

Chicken meat

1/2

cup

crayfish

200

g

Dried fish

3

seasoning cubes

300

ml

of palm oil

5

Scotch bonnet

pepper

200

g

Stock Fish

1

Small Dawadaw or Okpei

1

cup

bitter leaves
Instructions
Start making egusi soup by preparing the ingredients - wash the bitter leaves properly and boil with just water for 10 minutes. precook the meats and grind your melon seeds, crayfish, and peppers.

Pour hot water over the dried fish and stockfish, wash and set aside.

Once the meat is cooked, add 5 cups of water to it and follow with the 300ml palm oil, ground crayfish/pepper. Allow boiling for 7 minutes.

The dried fish and stockfish should be added at this point, stir the soup and allow it to boil for another five minutes.

Now you can add the ground melon (egusi seeds), stir and sprinkle another seasoning cube.

Salt to your taste.

Add the bitter leaves and cover your soup to cook for 6 minutes.

This is how to cook egusi soup in Nigeria. Serve with fufu, eba or pounded yam.
Video