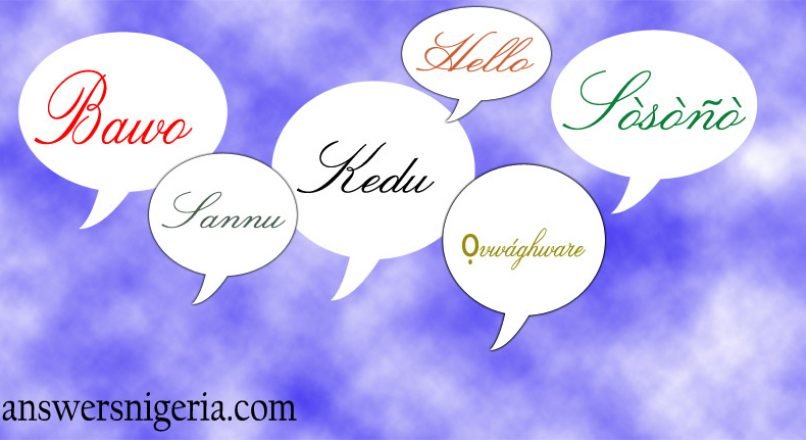 Languages in Nigeria

Languages in Nigeria include Igbo, Hausa, and Yoruba. There are really more than 300 languages spoken in Nigeria, I hope to tell you about all of them in the next few paragraphs.

Imagine a world without languages. Have you ever given a thought about these? My answer- I guess we all will be like walking zombies, boring and a disaster.

Languages determine who we are, our identities, culture and total way of life.

From one continent to another, from one racial group and totality of humans, language is the determining factor in our existence and relationships. Langauge makes all the spheres of life to blend together.

This takes me to my mother's land, the languages that are spoken in Nigeria.
History of Languages in Nigeria
The Nigeria Languages dates back to more than a thousand years. The evolution and migration which results in New language and modification of already existing ones had been a peculiar characteristic of the Nigerian languages over time. It is very much known that languages differ in spellings and intonations but with the same meanings.
The Major Languages in Nigeria
Over time due to economic, numeric and political values and strengths, these three language has been placed on top of the summit ladders of languages spoken in Nigeria and these are not in any particular order but just for organization purposes:
1. The Yoruba Language
2. The Igbo Language
3. The Hausa language
All others are sadly referred to as minority languages in Nigeria. You will find a list of major ethnic groups in Nigeria and their languages below.
We now take a better look into these Major languages
The first will be
The Igbo language in Nigeria
Igbo Is a very distinct language that has been spoken in Nigeria for more than 2000 years.
About one-third of Nigerian states are dominated by the Igbo speaking people of Nigeria. These states include Abia, Anambra, Ebonyi, Enugu, Imo, Rivers, Delta, and Lagos.
Igbo speaking Nigerians are found all over the country just because of their love for trade and search for greener pasture. You can read more about the >> Igbo Tribe
Yoruba Language
The Yoruba language is believed to have originated from mecca.
Its originator oduduwa is said to be a prince from Saudi Arabia. The tale has it that he moved with his people to the country which was not known as Nigeria then and established himself in a place now known as ife in Osun state Nigeria.
The language runs through the southwestern part of Nigeria states of Ekiti, Oyo, Osun, Ondo and Lagos state.
Just like the Igbo language they are well entrenched in all parts of the country.
The last of the major languages is the
Hausa language.
The Hausa language is not just spoken in Nigeria, there are other African countries that also speak the Hausa language – making it the most spoken language in Africa.
The Northern states are dominated by Hausa speaking Nigerians, with the only exception being the north-central part of Nigeria.
According to the international bureau of statistics, Hausa is the second most spoken language in Africa and the most spoken language in Nigeria.
Other popular languages spoken in Nigeria include the Urhobo, Itsekiri, Efik, Ibibio, Egbe and igala languages.
I have made a list of some of the popular ethnic groups in Nigeria and their languages.
| Langauges | States Spoken |
| --- | --- |
| Hausa | Kano, Kaduna, Bauchi, Borno, Kebbi, sokoto, jigawa, Gombe |
| Igbo | Imo, Abia, Anambra, Rivers, Ebonyi, Enugu. |
| Kanuri | Gombe, Borno, Yobe, Jigawa. |
| Yoruba | Osun, Oyo, Kwara, Ogun, Ondo and Lagos |
| Fulfulde | Sokoto, Jos, Zaria, Maiduguri, Borno and Sokoto |
| Ijaw | Bayelsa, Ondo, Rivers, Delta and Ekiti |
| Tiv | Plateau, Taraba and Nasarawa. |
| Ibibio | Akwa Ibom, Cross River and Rivers |
| Edo | Edo, Ondo and Delta |
| Ikwerre | River state |
| Urhobo | Delta State |
| Efik | Cross Rivers and Akwa Ibom state |
| Igala | Kogi, Benue, Delta, Anambra and Ondo |
| Ebira | Niger and Benue states |
| Nupe | Abuja, Kwara, Kogi and Niger |
| Isoko | Delta, Bayelsa, Rivers |
| Annang | Akwa Ibom |
| Igbanni | River State |
| Gwari | Niger and Kaduna state |
| Idoma | Enugu, Benue, Nasarawa and Cross River |