Category : About Nigeria
There is so much to write about Nigeria, besides the fact that it is home to 200 million people, I am sure you want to learn about the foods and maybe about the myriad languages spoken in the country too.
Nigeria is a country in Africa, the most populous African nation with 206.1 million people as recorded in the 2020 national census.
1. What is Special About People From Nigeria?
Nigerians were rated the happiest people on earth in 2014 by the world value survey.
There are also several youtube surveys that suggest Nigerians are easygoing and adapts easily to other cultures from around the world
Are you looking to visit the country or wondering if you could start a business in here? Would Nigerian be safe for you and your business?
Why not? Statistics show that foreigners gain more from investing in Nigeria than they could make in their native homeland.
2. What is The Population of Nigeria.
The population of Nigeria is 214 million as of January 2022, based on Worldometer elaboration of the latest United Nations data.
The country has a massive population that could catapult your business profit to whole new heights. Should you choose to invest.
3. What are Foods in Nigeria
While jollof rice is Nigeria's national food, there are hundreds of foods eaten in Nigeria. Recipes vary as you move from one tribe to another.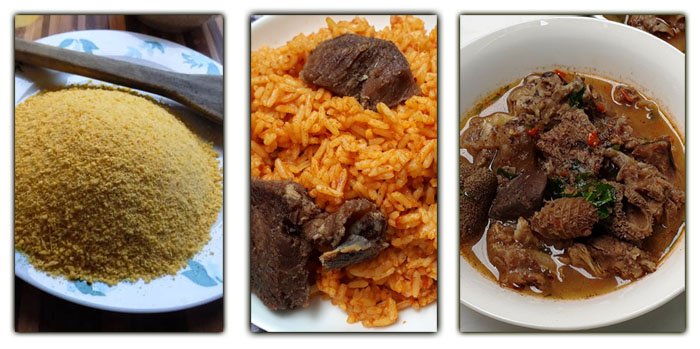 Learn more about Nigerian staple foods
4. Where is Nigeria
Nigeria is a country on the African continent. It is located in the western part of the continent and bordering Benin, Cameroun, Chad, and Niger.
Using the map of Nigeria, you can zoom in to see some of the states. With a little extra navigation, you can learn about cities and even villages.
What is Nigeria Famous for?
Nigeria is called the giant of Africa because of its population and robust economy. By her economic progression, it is expected to hit the top ten positions in the world by 2050.
Home to 213 million black people.
Nigeria has an abundance of natural resources like crude, gold, columbite, coal, iron ore, limestone, natural gas, et.
5. Languages Spoken in Nigeria
There are more than 400 indigenous languages spoken in Nigeria, besides the English language that is official.
There are three major languages.
1. Igbo
2. Hausa
3. Yoruba
There are several other minor languages spoken in Naija. Igbani, Fulfulde, Efik, Ikwerre, Idoma, Ijaw, Ibibio, Kanuri, Edo, Nupe, Kuka, Igala, Tiv, Kakanda, Izon, Annang, Itshekiri, and hundreds of others
There are more than 370 ethnic groups existing in Nigeria, one of the reasons we have diversity in mannerism.
Nigeria is the most populous black nation on earth and also boost as the highest producer of oil in Africa.
Are you friends with Nigerians and just looking to know more about the country? You can learn about Traditional marriages in Nigeria, or start learning about Foods and how to make them.
There are lots of mineral resources existing in Naija. statistics indicate that Crude oil is the main natural resource in Nigeria, hence the reason our economy is heavily dependent on crude oil.
There is so much information about the country, we tend to answer some of the most popular questions here. You can also add your own question and expect answers in just a few hours.