Category : Richest in Nigeria
The richest in Nigeria is definitely Aliko Dangote, besides him, there are several others in different categories.
Like the richest man in Igboland, the richest musician, or comedian.
I will make a list of some of the richest Nigerians in different categories.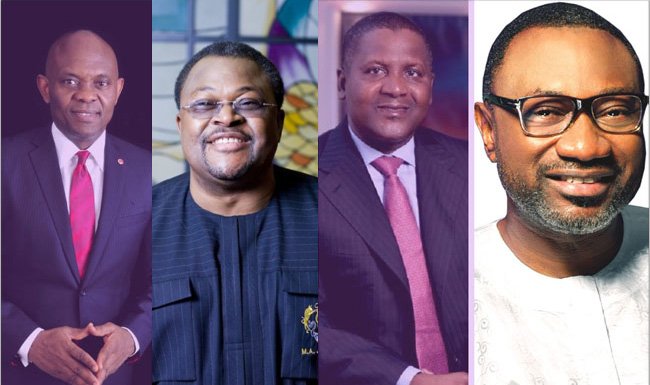 Lots of people have made money in Nigeria.
Peradventure, you are also nursing the idea of getting wealthy, hopefully, this article will offer the much-needed guide.
I will focus on entrepreneurs while occasionally picking out people that have gotten rich by engaging in skills, services, and vocations.
Who are the Richest People in Nigeria?
Nigeria is considered the giant of Africa, it is no longer news that we are gifted massively with human resources. Many Nigerians are making good money by following certain wealth creation principles
1. Aliko Dangote
Unarguably, Aliko is the richest man in Nigeria who ventured into business at the age of 21.
Aliko Dangote is popular for salt, cement, foods, and an array of household products.
In 1977, he borrowed (500,000 thousand naira) from his uncle and ventured into business. He has remained Africa's richest man for the 13th time in a role.
He is currently worth – 12.1 billion USD (2021)
Other wealthy men in Nigeria include
2. Mike Adenuga (7.9 billion dollars)
3. Femi Otedola (1.9 billion dollars)
4. Abdul Samad Rabiu (5.1 billion dollars)
2. Who is the Richest Woman in Nigeria?
That title and honor go to Folorunsho Alikija, a Nigerian businesswoman and philanthropist.
She is the managing director at rose of Sharon groups and vice president at famfa oil, companies she founded.
Folorunsho Alakija is worth 1.8billion dollars.
3. Who is the Richest Musician in Nigeria?
Wizkid (40 million dollars) is picked by popular opinion as the richest musician in Nigeria and the second, on the list, would be David Adeleke (35 million dollars).
Lots of Nigerian youth are making waves with their music, lots of them have made a good fortune singing the rhymes of joy. Beside wizkid and Davido there are several other wealthy musicians in Nigeria.
Don Jazzy, Psquare, Flavour, Phyno, D'banj, 2 face Idibia, and Olumide are just some rich musicians from Nigeria.
Who is the Richest Politician?
While there are hardly any dependable statistics for calculating the wealth of politicians, it is no secret, however, that lots of Nigerian politicians have lots of money to show around.
Chief Olusegun Obasanjo, Bola Tinubu, Rochas Okorocha, Dino Melaye, and Rotimi Chibuike are just some of Nigeria's politicians/Businessmen with deep pockets.
People are of the opinion that the actual rich Nigerians are not the people advertised on dailies. The richest in Nigeria, according to them, are politicians.
Below are some questions about rich people in Nigeria, you will also find answers to them.