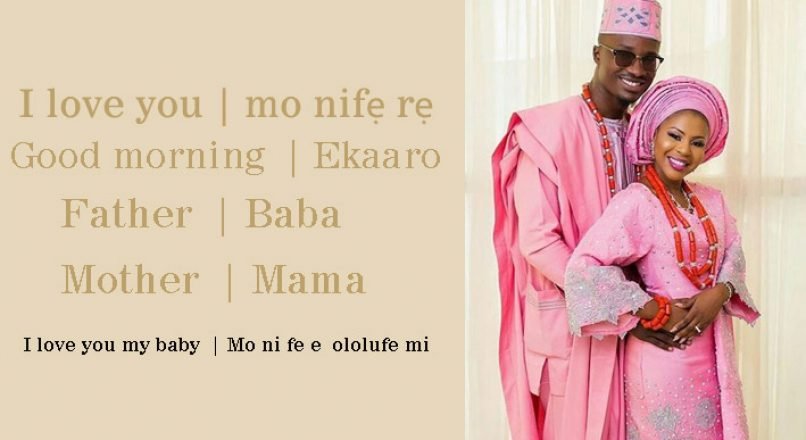 Yoruba Language

The Yoruba language Is a widely spoken lingua franca of the Yoruba people which stretches from the south-western part of Nigeria to the countries of Togo, Ivory Coast, Benin, Sao tome, and principle parts of Brazil and Jamaica.

Statistics show that over 56 million people across the world speak Yoruba. 

The Yoruba language is very distinct in sound, spelling, and intonations. That's why it is highly regarded as one of the easiest languages to learn all over the world. So interesting a language that lots of people from across other spheres of the earth consisting of Europe, Asia, and South America travel all the way Nigeria just to learn this language.

In fact, prestigious universities in the world such as Oxford, Stanford, University of Los Angeles and the great Havard have inculcated the learning of this wonderful language into their foreign language curriculum.

Though sadly in Nigeria this great language is gradually going into extinction due to the complete use of English in teaching our children at school and sadly at home. it's terribly seen as a vernacular that shouldn't be spoken at official gatherings and duties. What a big shame.

Moving on I want to talk about converting English words to Yoruba phrases. I will be creating 50 popular phrases in English and translating them to Yoruba. Check out the English to Yoruba translation below.

1. I love you | mo nifẹ rẹ

2. I need you | mo fe iwo

3. Good morning | Ekaaro

4. Good Afternoon | Ekasan

5. Good Evening | Ekale

6. Good Night | Odaaro

7. Welldone | Eku ise

8. I love you my baby | Mo ni fe e ololufe mi

9. Have Mercy on me | sanu fun mi

10. My love for you is | Monife e gan ni

11. He loves her so much | o ni fe e gan

12. I miss you so much | Mo n sa aferi e gidi gan

13. She is so beautiful | obinrin na ni ewa

14. We are going higher | Oke ni ipo wa

15. How is your mother | mama e nko

16. Answer our prayer | Dahun adura wa

17. I bring you good news | Mo mu iroyin ayo to e wa

18. We have win | Dadan ni ka se aseyori

19. True love exists | ife otito wa

20. Let's go home | E je ka lo le

21. Let's us go home| Je ka losi ile

22. Today is the day | oni loni n je

23. My country is | Orile ede mi ni  Nigeria 

24. Father | Baba

25. Mother | Mama

26. Daughter | Omo obinrin

27. Son | Omo okunrin

28. Man | Okunrin

29. Woman | Obinrin

30. House | Ile

31. Shop | Ile- itaja

32. Boy | Omo okunrin kekere

33. Girl | Omo obinrin kekere

34. Earth | Ile-aye

35. God | Olorun

36. God is great | Olorun tobi

37. Life is a journey | irinajo laye

38. Love is sweet | Ife dara

39. Forward | Itesiwaju

40. Growth | Idagbasoke

41.  That is my Car | Oko mi niyen

42. Driver | Awako

43. Forever | Titi lailai

44. Lies corrupt | Iro ma dan kan ru

45. Liar | Opuro

46. Road  | Titi

47. Christmas | Keresimesi

48. Crown | Ade

49. Crown King | Oba alade

50. Queen | Olori

51.  Oruko | Name

52. There goes MyLove | Ololufe mi niyen

53. Good Health is | Alafia se pataki

Quite an adventure I guess, you can learn to speak Yoruba by trying the phrases above. In no time, you will definitely be good at it.
How to learn Yoruba Language fast.
There are just two ways to learn Yoruba fast.
The first is quite very funny and thought-provoking, howbeit, a tested and proven technique.
1. Learn Yoruba By Abusing People
Quite a funny right? People have found out that the easiest way to learn Yoruba fast is to listen carefully when Yorubas are abusing one another. You tend to learn words because you are very interested in what they are saying. Though you might tend to start from there as so many people do, don't do it too much or you might go home with a broken head.
2. Get someone to Teach you Yoruba Language
A very conversant teacher with good teaching skills in Yoruba will really help you in a long way. Especially one who is blended in both English and Yoruba. It's worth it and I consider this a better technique than employing the "abuse method".
Finally, I get lots of people asking about love-related phrases in Yoruba.
What is 'I miss you" in Yoruba
Simply the word " I miss you" in the Yoruba language is "Mo n se Aferi re". Don't let your teeth remove while trying to call it. 😀
In conclusion, seriously our languages are an embodiment that shapes and identify us. If it goes into extinction we will realize what we have lost and we might look back in regret and shame. We can all do so much in preserving the Languages in NigeriaNigerian languages, especially the Yoruba language.