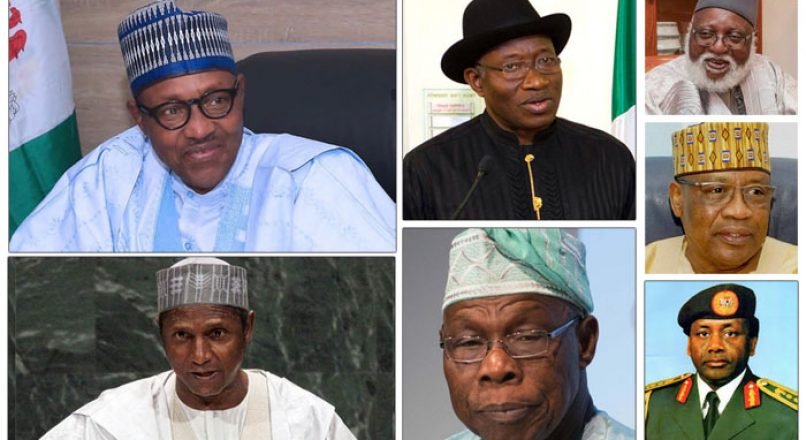 Who is the President of Nigeria

The President of Nigeria is currently general Mohammad Buhari who is doing his second term in office and should be out by 2023, all things being equal.

With regard to the above, the president of Nigeria is thus the one who controls the affairs of the country. It is true that the country was colonized by the British but because they are made up of bold and daring citizens, they rejected Britain's parliamentary form of government and took up a democratic system of government, founded by Abraham Lincoln.

The head of States, leaders of Nigeria from the declaration of Independence in Nigeria are listed below;
List of Presidents of Nigeria
1960-1963 Nnamdi Azikiwe. Governor-General
1963-1966 Nnamdi Azikiwe. President.
1966-1966 Johnson Aguiyi Ironsi. Federal Mil. Govt.
1966-1975 Yakubu Gowon Federal Mil. Govt.
1976-1979 Olusegun Obasanjo Head of Fed. Mil. Govt.
1979-1983 Shehu Shagari. President.
1983-1985 Muhammadu Buhari. Supreme Mil. Council
1985-1993 Ibrahim Babangida. President Armed Forces ruling council
19931993 Ernest Shonekan. Interim Head of State
1993-1998 Sani Abacha. Chairman of the provisional ruling council.
1998-1999 Abdusalami Abubakar. Chairman of the provisional ruling council.
1999-2007 Olusegun Obasanjo. President.
2007-2010 Umaru Musa Yar' Adua. President.
2010-2010 Goodluck Jonathan. Acting President.
2010-2015 Goodluck Jonathan. President.
2015-Present Muhammadu Buhari. President.
Looking at the above, one will infer that even though Nigeria got its independence in 1960 and became a republic in 1963, yet it was until 1999 that it began to practice democracy.
It had all been military leadership all these while. The above also shows that Muhammadu Buhari is the current president of Nigeria. He assumed office on May 29th, 2015 as the fifteenth President of the Federal Republic of Nigeria.
He was re-elected as the president of Nigeria in 2019. The election was conducted in February 2019.
Who is the President of Nigeria 2020
According to the constitution of Nigeria, An elected president gets four years to deliver his campaign promises. Since our current president was re-elected in 2019, he is subsequently the 2020 Nigerian president and there are no two words about that.
The president, Mohammadu Buhari celebrated his 77th birthday on the 17th December 2019, which implies the Nigerian President was born on the 17th of December 1942.
The Most famous Nigerian, according to answers-Nigeria 2019 rating, President Mohammadu Buhari is married to Aisha Buhari and blessed with kids.
What is the Salary of Nigeria's president
The Nigerian president, Muhammadu Buhari affected a salary cut almost immediately he became president; his reason being that there was a need to cut government expenditure. Many Nigerians saw this as a good development. Not only the salary of the president was cut by 50%; that of his vice too was cut by the same percentage.
After the cut, the president's salary was reduced to N14 million naira. This means his basic salary will be N3,514,705 this amount was made public by the Revenue Mobilization Allocation and Fiscal Commission.
Nigeria had been in existence even before its amalgamation in 1914 by Lord Lugard. I said this because of the single fact that River Niger has been in existence since time Immemorial.
Nigeria is a home for different entities on the coast of West Africa until the British colonization. The British continued to run the affairs of this beautiful home until she gained her independence in 1960.
When Nigeria was being colonized by the British, Nigerians of that time cried out against colonialism. Then after much struggling and fighting, Nigeria became independent in 1960.
In Conclusion
In conclusion, I must confess that leadership in Nigeria is becoming better. But democracy needs to be practiced in its entirety while apathy should be eradicated. I want to gladly inform the leaders, especially the president of Nigeria that democracy is imperative for good governance and sustainable development.
If we can build a democratic Nigeria, then, everything will start to fall into places such that by the end, Nigeria will become the envy of even developed nations. I urge Nigerian leaders to be passionate about making their subjects happy by adequately delivering their campaign promises.
We only need leaders who are determined to achieve success, those who will not throw in the towel at any slightest friction; those who will not abandon good and worthwhile projects in the face of friction or personal aggrandizement.
We need presidents, leaders who can regulate, who can persevere despite challenges and frustrations. The president should president well to be better than the past presidents. When this is done, the president will forever be remembered and thus live a legacy for himself.
What is the Full Name of The Current president of Nigeria?